[Home] [Request for Quotation] [Back to Whittam]
---
Scanogram/Radiology/Radioopaque Rulers
(also called X-Ray Rulers/Rules/Scales)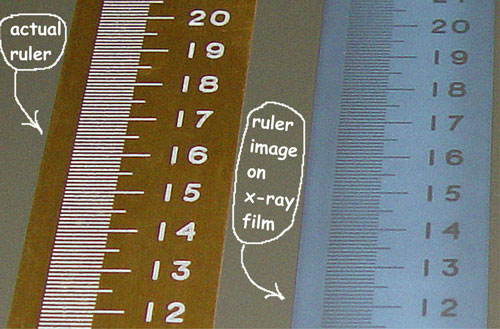 Whittam has developed special (scanogram) radiology rulers. Above, the actual ruler and its image on the film. More Info/Add to Cart
Ruler graduations register clearly on an x-ray film. The rulers are 130 cm long by 38 mm wide, made of brass, nickel plated, and precisely engraved, then filled with special x-ray blocking paint. The finished scales are encased in clear PVC for protection and stiffness. A 1/4" hole through PVC and brass above the 130 cm mark is provided for hanging when not in use. Placed next to the object being x-rayed, they make an excellent measurement tool for any radiology department.
For a quotation go to "Quotation Page"
<< Back to Whittam Page
[Shaft Encoders] [Precision Gears] [Contact Us-Send Brochure] [Products]
Schlenker Enterprises, Ltd.
P.O. Box 9277
Lombard, IL 60148-9277, USA
708-449-5700 (Phone)
708-449-5703 (Fax)

E-Mail: sales@schlenkent.com